Maybe you sat once together with other travellers, talking about travel stories and destinations. Then you might heard the expression "The Stans".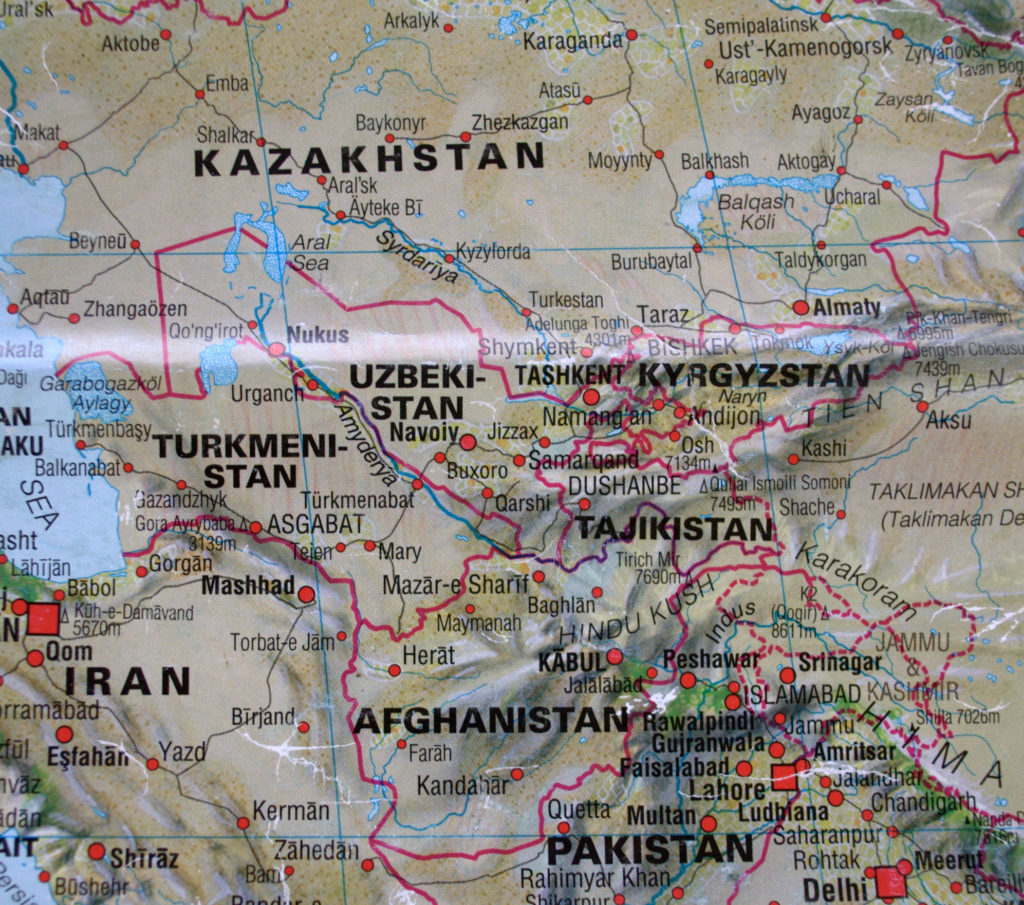 Mostly they are talking about Kazakhstan, Uzbekistan, Turkmenistan, Tajikistan and Kyrgyzstan. Afghanistan and Pakistan are also part of the Stan-collection, but because of many reasons they are not so frequently travelled.
The origin of the suffix "-stan" is coming from Persian and is also used in the Turkish language. The translation would be "place of" or "country".
The names in Turkish or Persian of the countries which had experienced an Persian influence in the past have the suffix "-stan" in their name. For example "Bulgaristan" (Bulgaria) or "Gürcistan" for Georgia. Other than country names you will find a lot of provinces in this area having the suffix, for example Dagestan in Russia.
Anyway, the mentioned seven "Stans" are the countries which adopted the suffix into English and we are going the travel them.
Well, not all of them. Our Express is our caravan and crossing the border in this area is not always the easiest with a car. I am writing this post in the Beginning of March 2019 in Tbilisi Georgia. So far we drove since September (we spent the first 7 months in our caravan between Denmark and Bulgaria) from Germany through the Balkans into Turkey, then Iraqi Kurdistan and Georgia.
Roughly the route from Germany to Georgia.
So far border crossing where easy, but going more east it will change (reports about border crossings). There are more or less 3 ways to get to the Stans.
through Iran
crossing the Caspian sea
passing through Russia and Kazakhstan
We would love to go to Iran, it is actually a big dream of me. The problem is the so called "Carnet de Passage". A paper given from the auto-mobile club in which your car is registered (in our case ADAC in Germany).
Basically you pay the mobile club some money for the paper plus a very big deposit. You will need this paper when entering Iran, Pakistan and India (talking about this area) with a vehicle Once you get back to your country with the vehicle you will get back the deposit. It is a kind of guarantee that you will not live it in the country and maybe sell it.
I only made a surface research about, realizing it is not an option for us. The price for the carnet (12 months) in Germany for a car would be around 330 € plus 5 000 € (!!!) deposit. The deposit is according to the value of you vehicle, but a minimum of 5000€. It is more then we paid for our Caravan.
As an information on the side: This prices are different in every country. Friends of us went to Iran with a car registered in Turkey. The price for the Carnet was only a few hundred Dollars.
I am not saying get a Turkish Numberplate (you would also have to deal with costumes etc.), but if you want to drive to Iran it could be worth to check on it.
Anyway, this is not an option for us.
The next option would be crossing the Caspian sea. It would be possible from Baku in Azerbaijan to Aqtau, Kazakhstan or from Baku to Türkmenbaşy in Turkmenistan, to make the list complete there is also on ferry from Russia to Turkmenistan.
Now the problem with Turkmenistan is the Visa for a German Passport. Duygu would not need a visa for Turkmenistan. Entering Turkmenistan with a German Passport would require booking a tour with a licensed tourist guide. This would be very expensive and would not make us satisfied at all.
Many people are applying for a transit Visa and only spent a few days in the country. In this case you would not need a guide, but you should tell exactly the route how you cross the country and as well the exact dates from entering and exiting. Plus there are all sorts of payments when entering the country with a car (GPS device, special road tax, etc.). All in all a week in Turkmenistan would cost you a couple of hundred Dollars. This is just a little bit to much headache and money for us, so we decided not to go to Turkmenistan (for now, maybe it will change on the way).
Another problem taking the ferry to Turkmenistan is the date of entry. From all what we heard is, that there is no fixed schedule for the ferries leaving Baku. They are going when there are full and returning when they are full. Waiting a few days on the harbour is just normal. Unfortunately the will not care about it on the border. Which means, you are applying for a 7 days transit visa from which you will spent 3 days waiting at the harbour. This would leave you with 4 days in the country.
Crossing to Kazakhstan would spear you all this headache, but still cost you a decent amount of money.
Considering all this (it´s mainly a question of money) we decided to go around the Caspian sea through Russia. At the moment we are waiting for our Visas for Russia (click for more).
Once we have our Visas we will go to Azerbaijan, Russia, Kazakhstan, Kyrgyzstan, Tajikistan and Uzbekistan. We will also try to go to the north of Afghanistan, but the situation there is changing constantly. So we will see once we are in this area.
Going to the Stans
We would love to go further, but entering Pakistan would require a carnet de passage. Entering China is possible, but again only with a guided tour or changing your number plates into Chinese plates for a lot of money.